Posts for tag: periodontal disease
By Nicollet Mall Dental Arts
November 11, 2014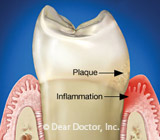 Do you frequently experience bleeding gums during your daily brushing routine? You might assume that you are brushing too hard and that this bleeding is normal. However, you should know that any bleeding of gum tissue is abnormal and should be considered a potential sign of gum disease.
Gum tissues usually bleed because of dental plaque buildup from poor oral hygiene practices. When the plaque is left around the gum line for a long period of time, 24 hours or more, the gum tissues respond by becoming inflamed — this can quickly become a chronic inflammation.
Here are some other warning signs of gum disease:
Bad Breath. Bad breath is one of the most common signs of gum disease. This is especially true for those who do not floss, because plaque collects in the protected areas between the teeth making them especially prone to gum inflammation. This plaque often produces a pungent smell that causes bad breath.
Red or Sensitive Gums. If you look closely in the mirror, you might see redness of the gums. It may also seem as if your gums are swollen, and in more advanced cases, this can lead to receding gums. Finally, you might notice gum sensitivity when you brush or a sensitivity to hot and cold.
Tooth Loss. If this disease goes untreated, over time, bone loss will cause loose teeth, movement or migration of the teeth into a new and unstable position, and ultimately tooth loss. The rate of progression will depend upon the type of gum disease that you have.
Painful Gums. Once you start to feel acute pain and extremely sore gums, this may mean you have developed a periodontal abscess. When this happens, the bacteria are walled off inside a gum "pocket," and since your body's defenses are overwhelmed, there is a battle between the bacteria in that pocket and your body's defense mechanisms. The result is a collection of pus and extra bone loss. Your gums will be sore, swollen, red and may even discharge pus.
As you can see, the further the disease progresses, the greater the amount of pain and damage that will occur. Therefore, upon the first sign of gum disease, such as bleeding gums, you should schedule an appointment with us immediately.
If you would like more information about gum disease, please contact us. You can also learn more by reading the Dear Doctor magazine article "Warning Signs of Gum Disease."
By Nicollet Mall Dental Arts
February 05, 2014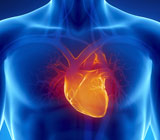 Your body's organ systems are interlinked — what happens in one system may affect another. An example of this is the interrelationship between periodontal (gum) disease and cardiovascular disease (CVD).
Medicine has discovered a common link between these two different conditions — inflammation. A result of the body's defense mechanisms, chronic inflammation is damaging to both your mouth and your heart. Inflammation can destroy the gum's soft tissue and underlying bone and lead to tooth loss. In the cardiovascular system, inflammation can begin and accelerate the buildup of plaque within arterial blood vessels (atherosclerosis). This inhibits the flow of oxygenated blood to both the heart and brain, which sets the stage for a heart attack or stroke.
Gum disease begins with poor oral hygiene. When brushing and flossing aren't performed on a regular basis, or not performed adequately, it allows a thin layer of bacterial plaque called biofilm to build up on the teeth. The bacteria cause infection in the soft tissues of the gum that triggers the chronic inflammation. Because it's often unaccompanied by other signs of infection like fever, a patient may not even be aware of it. There's evidence now that inflammation caused by moderate to severe gum disease can contribute to a similar response in blood vessels.
We can treat the gum disease and reduce or eliminate the inflammation. This first requires the removal of all plaque and calculus (harder deposits) on the teeth, down to the root level. It may require surgery to access these areas and to help regenerate some of the lost tissue and bone that support the teeth. It's also important to institute proper oral hygiene — effective daily brushing and flossing, semi-annual office cleanings and checkups.
In a similar way, you should address signs of inflammation in your cardiovascular system, including blood pressure management and the control of LDL (bad) cholesterol. Because both gum disease and CVD share many of the same risk factors, you can positively impact both your oral and general health by eating more nutritional foods, engaging in regular exercise and quitting tobacco products.
Treating any symptom of inflammation is important to improving your total health. By bringing gum disease and its accompanying inflammation under control, you may in turn help your heart and blood vessels.
If you would like more information on the relationship between heart and gum diseases, please contact us or schedule an appointment for a consultation. You can also learn more about this topic by reading the Dear Doctor magazine article "The Link Between Heart & Gum Diseases."
By Nicollet Mall Dental Arts
May 15, 2013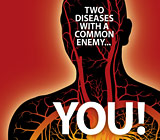 The increasing rates of obesity and diabetes in Americans have been getting a lot of attention lately. Most people know that the two are clearly linked. But did you know there's also strong evidence of a link between diabetes and gum disease?
Both diabetes and periodontal (gum) disease are chronic inflammatory conditions. That means they are disorders that develop over time (chronic), and are characterized by problems with a function of the immune system (inflammation). In diabetes, problems with the hormone insulin lead to abnormal levels of sugar in the blood. This can bring about a number of complications which, if not treated, may result in kidney failure, coma and even death. In many people, however, it's a condition that can be managed with drugs and lifestyle changes.
You may not think of gum disease (periodontitis) as a serious illness. But here's something you should know: If you have diabetes, having gum disease is a risk factor for worsening control of blood glucose levels, and may also increase the risk of complications. Likewise, having diabetes puts you at greater risk for developing more severe forms of periodontal disease.
What is gum disease? It's actually a group of diseases caused by many types of bacteria in the mouth, which affect the tissues around the teeth. Initially, it often causes swelling and redness of the gum tissue. Left untreated, it may result in bone loss, abscess formation, and ultimately the loss of teeth. But its ill effects aren't limited to your mouth.
Periodontal inflammation is associated with a higher systemic (whole-body) inflammatory state. That means it may increase your risk for cardiovascular diseases like heart attack and stroke, and adverse pregnancy outcomes — as well as complicating the management of blood-sugar levels in diabetics.
Now, here's the good news: Treatment of periodontal disease which reduces inflammation has a beneficial impact on the inflammatory status of the whole body. For people who have both diabetes and periodontal disease, that means that periodontal therapy can lead to improved blood sugar control.
How do you know if you have periodontal disease? Bleeding gums and bad breath are both possible symptoms, as are redness and soreness of the gum tissues. But these warning signs may be masked by any number of other factors — or may not be noticed at all.
The sure-fire way to diagnose and treat periodontal disease is by getting regular dental checkups, followed by specialized periodontal treatment when necessary. If you presently have diabetes, or may be at risk for developing the disease, those check-ups and treatments are even more important.
If you have concerns about diabetes and gum disease, please contact us or schedule an appointment for a consultation. You can learn more in the Dear Doctor magazine articles "Diabetes & Periodontal Disease" and "Understanding Gum (Periodontal) Disease."