Posts for: March, 2015
By Nicollet Mall Dental Arts
March 16, 2015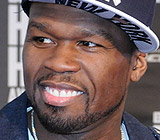 On his way to the top of the urban contemporary charts, the musician, actor and entrepreneur known as 50 Cent (born Curtis James Jackson III) earned his street credibility the hard way; his rise from youthful poverty to present-day stardom is chronicled in many of his rhymes. So when it came time for the rapper to have cosmetic work performed on his teeth, he insisted on doing it in his own way.
"I told [the dentist] to leave [my front teeth] a little bigger than the other ones, because I need to still see me when I look in the mirror," he told his co-host on the New York radio station Power 105.1. "Don't give me no whole 'noter guy — I like me!"
We understand how 50 Cent feels — in fact, we think it's a perfectly reasonable request.
Cosmetic dentistry has come a long way in recent years, as we strive to meet the increasing expectations of our patients. We realize that different people have different perceptions of what makes a smile attractive — and that in dental aesthetics, beauty really is in the eye of the beholder. That's why, before we begin cosmetic work, we want to hear what you like and don't like about your smile as it is now. In addition, we can also perform what is called a "smile analysis."
This procedure doesn't cause any discomfort — but it's a crucial part of cosmetic enhancement. In doing the analysis, we look at the various parts of an individual's smile: the spacing, size and alignment of the teeth; the health and position of the gum line; the relationship of the upper and lower jaws; and the relative shape and size of the face. All of these features combine to make a person's smile unique. By looking at them closely, we can help determine the best way for you to improve your smile.
But how can you tell if the cosmetic changes you're contemplating will end up being just right for you? Fortunately, with today's technology, it's easier than ever. Computer imaging offers a chance to visualize the final outcome before we start working on your teeth; it's even possible to offer previews of different treatment options. If you want to go a bit further, we may be able to show you a full-scale model of your new smile.
In some situations, we can even perform a provisional restoration — that is, a trial version of the new smile, made with less permanent materials. If the "temporary" smile looks, feels, and functions just right, then the permanent one will too. If not, it's still possible to make changes that will make it work even better.
Whether you're thinking about having teeth whitening, cosmetic bonding, porcelain veneers, or dental implants to improve your smile, you probably have a picture in your mind of how the end result should look. Will your teeth be perfectly even and "Hollywood white" — or more "natural," with slight variations in size, spacing and color allowed? Either way, we can help you get the smile you've always wanted.
If you would like more information about smile makeovers and options in cosmetic dentistry, please contact us or schedule an appointment for a consultation. You can learn more by reading the Dear Doctor magazine article "Cosmetic Dentistry."
By Nicollet Mall Dental Arts
March 06, 2015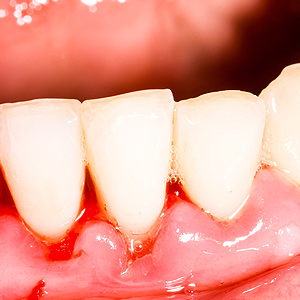 Periodontal (gum) disease is a devastating infection that eventually causes tooth loss if not treated. Plaque removal, antibiotics and possible surgical intervention have proven quite effective in stopping the infection and restoring diseased tissues; however, the more advanced the disease, the more difficult it can be to treat. It's important then to know the warning signs of gum disease.
Bleeding gums are the most common early sign of gum disease. The infection triggers tissue inflammation, the body's defensive response to isolate and fight bacteria. As the inflammation becomes chronic, however, it can weaken the gum tissues, which will then bleed easily.
Bleeding, though, is often overlooked as normal, perhaps from brushing too hard. In actuality, bleeding gums is not normal: if your gums routinely bleed during normal brushing and flossing, you should contact us for an examination as soon as possible. Similarly, if your gums are red, swollen or tender to the touch, this is also a sign of inflammation and an indication of infection.
Gum disease is often called a "silent" disease, meaning it can develop without any indication of pain or discomfort. Sometimes, though, bacteria can concentrate in a particular portion of the gum tissue to form a periodontal abscess. In this case, the abscessed tissue can become very painful, swollen and red, and may even discharge pus.
There are also advanced signs of gum disease. If your teeth are painfully sensitive when you brush, consume something hot or cold, or when you bite down, this may mean the gums have pulled back (receded) from the teeth and the highly sensitive dentin and roots are now exposed. Teeth that appear to have moved or that feel loose may mean the gum tissues have significantly detached from the teeth as increasing amount of bone loss occurs. If you see any of these signs you should contact us without delay.
Regardless of the level of disease advancement when diagnosed, prompt treatment should begin as soon as possible. This is the only way to bring the infection under control and give the gum tissues a chance to heal and rejuvenate. From then on, it's a matter of renewed dental hygiene, frequent cleanings and checkups and an ever vigilant eye for signs of returning infection.
If you would like more information on the diagnosis and treatment of gum disease, please contact us or schedule an appointment for a consultation. You can also learn more about this topic by reading the Dear Doctor magazine article "Warning Signs of Periodontal (Gum) Disease."