Posts for: January, 2015
By Nicollet Mall Dental Arts
January 28, 2015
The CAT scan is a relatively recent technique in dentistry, used to get an image of what's happening deep within your jaws. You may be wondering what a CAT scan tells us that a conventional x-ray picture does not, and whether it is worth the extra expense to get one. And how does a CAT scan compare with a conventional x-ray in terms of radiation exposure?
CAT stands for "computer assisted tomography." Often it's just called a CT scan, for "computerized tomography." The word "tomography" comes from roots meaning "slice" and "write." Tomographic techniques take repeated two dimensional pictures, similar to repeatedly slicing through an object, and then assembles them with a computer to produce a three dimensional (3-D) image.
The latest type of CT scan used in dentistry is called CBCT, or Cone Beam Computed Tomography. The Cone Beam refers to a spiral beam of x-rays, which is used to create a series of two dimensional images from which a computer creates a 3-D image. Such an image is of great value in assessing problems and planning treatment.
Here are just a few examples of how a CBCT scan can be used. Orthodontists can see skeletal structures and developing teeth that are still inside the jawbone while planning strategies for directing the teeth in order to arrive at a better bite. Oral surgeons can find impacted or missing teeth, see their locations, and view their proximity to nerves and sinuses, assisting them in planning surgeries. These scans are particularly useful for root canal specialists because they show root canals that are less than a millimeter wide and even reveal accessory canals that may not be visible on conventional x-rays. In cases of sleep disorders such as sleep apnea, a CBCT during sleep can be used to view a person's airway and how it may be blocked by the tongue and other soft tissues in a person's throat during sleep.
Compared to background radiation, the amount of radiation delivered in dental x-rays is minimal. A CBCT delivers a dose of radiation that is less than a typical full mouth x-ray series but more than a typical two dimensional panoramic radiograph. Generally CBCT scanners deliver lower doses than medical CT scanners.
With one low-dose CBCT scan, we can get an accurate idea of the internal structure of your bones and teeth and how they are situated in relation to each other. Prior to the availability of such images, many of these relationships had to be discovered in the course of a surgery or other treatment. Thus such a scan can aid greatly in the quality of treatment you will receive.
Contact us today to schedule an appointment or to discuss your questions about 3-D scans in dentistry. You can also learn more by reading the Dear Doctor article, "CAT Scans in Dentistry."
By Nicollet Mall Dental Arts
January 13, 2015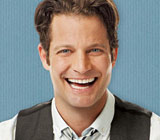 Design expert and television celebrity Nate Berkus has definite ideas about how to live. In a recent interview, he explained his ideas on design. He also talked about health, and how he keeps his teeth and mouth healthy.
From an initial design makeover that he did eight years ago on the Oprah Winfrey Show, Berkus has gone on to do 127 such makeovers. He was such a success that he now hosts his own daily talk show. He has also developed a line of home products for the Home Shopping Network and has his own design firm, Nate Berkus Associates. His clients include well-known restaurants and hotels as well as private homes. He has written articles for O Magazine and authored a book on the subject of transforming your home into a place you love.
"I realized many years ago that I wasn't going on Oprah to pick sofa colors and paint chips. I was there to lift people up through the way they live," he says. His secret to design success is to "go with what you love." He says, "Don't worry about mixing metals, eras or styles. If you love each item, you'll find a way to make it work."
His common sense practical attitude continues when it comes to dental health. Berkus is blessed with a healthy mouth and teeth. He doesn't feel anxious when visiting the dentist because he usually has a good report. He has not needed orthodontics or cosmetic dentistry. He thanks his childhood dentist for giving him fluoride treatments and sealants, and for teaching him healthy dental hygiene habits.
Berkus brushes his teeth twice or even three times a day, with a manual or electric toothbrush — depending on whether he is at home or traveling. He also follows his dentist's advice about flossing: "Floss the ones you want to keep!" He says that he tried tooth whitening once, but he felt that the whiteness was "too white." Now he simply works to maintain his natural tooth color and smile.
Contact us today to schedule an appointment to discuss your questions about maintaining healthy teeth. You can also learn more by reading the Dear Doctor magazine article "Nate Berkus, Helping Others Love the Way They Live."