Posts for: April, 2014
By Nicollet Mall Dental Arts
April 17, 2014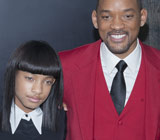 Her parents Will and Jada are Hollywood royalty, who helped her land her first acting role when she was 7. She released a hit single, "Whip My Hair," before she had quite reached the age of 10; shortly afterward, she was signed to a record label. Yet the young singer and actress Willow Smith has at least one thing in common with plenty of 'tweens and teens across America: She needed to wear braces to correct problems with the alignment of her teeth.
Why do braces seem to be a part of growing up for so many kids? One answer is because they work so well. Braces apply gentle pressure to the teeth through a thin, flexible wire called an archwire. Attached to the teeth with a metal or ceramic bracket, the archwire exerts a light force which causes teeth to gradually move into better positions. Sometimes, when additional force is needed, elastic bands or other appliances may be used in conjunction with braces.
Most everyone is familiar with the silvery metal "tracks" of traditional braces. But did you know that there are a number of other options too? For a more inconspicuous look, you may be able to have braces with tooth-colored ceramic brackets; then, only the thin archwire will be visible in your mouth. It's even possible in some cases to place the metal wires and brackets on the tongue side of the teeth. With this system, called lingual braces, the orthodontic hardware is truly invisible.
What if you didn't need metal braces at all? Some people can get good results using a system of clear plastic aligners instead of braces. The aligners are worn 23 hours a day, but can be taken off for cleaning and for important events. They work best for correcting mild or moderate alignment problems.
Still, plenty of people feel that if they're going to wear braces, they might as well flaunt them. That's why some types of braces are available with bands that come in different colors. When Willow's brother Jayden wore braces, he was reported to favor red and black ones. Jayden, who is about two years older than his sister, had his braces removed just before Willow got hers put on.
So if it turns out that you need braces, remember that lots of your favorite celebrities wore them too. And keep in mind that, depending on your own situation, you may have several options to choose from.
If you would like more information about braces or orthodontic treatment, please contact us or schedule an appointment for a consultation. You can learn more by reading the Dear Doctor magazine articles "The Magic of Orthodontics" and "Orthodontics for the Older Adult."
By Nicollet Mall Dental Arts
April 02, 2014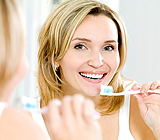 Billions of bacteria live in each of our mouths, sharing a common environment with teeth and soft tissues. Most of the time, they coexist in symbiotic balance. But sometimes that balance becomes disrupted, leading to a destructive condition known as periodontal disease.
From the Latin peri ("around") and the Greek odont ("tooth"), periodontal refers to the tissues that are around the teeth. When they become diseased, it's a serious matter; and not just because of potential tooth loss — there is evidence that periodontal disease has links to cardiovascular disease and, for pregnant women, low birth weights in pre-term babies.
There are a number of factors that can increase your risk of developing periodontal disease, like smoking, poor nutrition, and your systemic health. The biggest factor, however, is increased bacterial plaque due to poor oral hygiene practices.
Periodontal disease is progressive. As unhealthy bacteria levels increase, the bacteria eventually cause bone loss, the gums separate from the teeth and create what is referred to as periodontal pockets. As the pockets deepen around the teeth, plaque and tartar become extremely difficult to remove, even if you resume a proper hygiene routine. At this stage, treating the disease will require a different approach. And if left untreated, the teeth will most likely continue to lose bone and eventually be lost.
Through a dental exam, we can determine the presence and extent of the disease and recommend a treatment strategy. Besides lifestyle changes and better hygiene habits, this strategy might also include treatment with antibiotics, a thorough mechanical cleaning to remove tartar and plaque, surgical techniques to remove infected tissue, or occlusal bite therapy.
Above all, prevention is the key. Through proper dental hygiene and regular dental exams and cleanings, stopping periodontal disease from beginning in the first place is your best defense.
If you would like more information on the treatment of periodontal disease, please contact us or schedule an appointment for a consultation. You can also learn more about this topic by reading the Dear Doctor magazine article "Understanding Gum Disease."