Posts for: March, 2014
By Nicollet Mall Dental Arts
March 18, 2014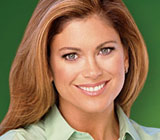 It is not often that you find a celebrity who is willing to speak candidly about any cosmetic or restorative dentistry that he or she has had. Instead, most prefer that their fans just assume that their dazzling "Hollywood" smile is something that just happened naturally. However, that is not the case with Kathy Ireland, the former Sports Illustrated cover girl, current business mogul and founder of kathy ireland Worldwide, a billion dollar marketing and design firm. In a Dear Doctor magazine cover story she talks openly about her dental experiences, injuries and treatment so that people worldwide can understand what may be possible for them.
For Kathy, it happened several years ago when she was playing with her husband and children in their driveway. Kathy decided that she would stand in her children's wagon and surf across their driveway. Instead, she ended up "face-planting," as she describes it, in a freak accident that left her with a broken nose, split forehead and several broken teeth. She recalls that it sounded like a watermelon had smashed. Luckily, her husband, an emergency room physician, was on hand to care for her. Kathy is just as thankful to her cosmetic and restorative dentist who restored her trademark smile with some veneers and a dental implant. Today, the only reminder she has from this accident is a small scar on her nose that she covers with a little makeup.
You would think that this accident would be enough trauma for one person; however, Kathy describes an earlier accident where she knocked out a tooth and then later knocked it loose again. Kathy also wanted to take the time to let readers know that her dental implant experiences were "pretty easy." She did recall, "hearing all the sounds while all of it was going on" and then added, "but I have to tell you, that after being a mom and having kids, going to the dentist...is like going to the spa!" She said that she has even fallen asleep in the dental chair.
To learn more about Kathy Ireland, continue reading the Dear Doctor magazine article "Kathy Ireland." Or if you think cosmetic or restorative dentistry is right for you, contact us today to schedule an appointment to discuss your specific goals.
By Nicollet Mall Dental Arts
March 03, 2014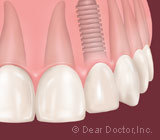 Dental implants provide a number of advantages as a tooth replacement system, like durability and imperviousness to decay or gum disease. Bone naturally grows and attaches to the titanium posts, strengthening the attachment over time, and they don't cause damage to adjacent teeth. Best of all, an implant and its crown's life-like appearance can rejuvenate a person's smile, transforming their appearance and self-image.
But it takes time to complete treatment with dental implants — months of healing and sufficient bone growth to anchor the implant before affixing the permanent crown. If the natural tooth requires extraction first, this may add another step — and more healing time — to the process.
In recent years, though, patients who meet certain criteria are able to shorten the time after a tooth extraction with "immediate" implants. In this case, rather than waiting for the socket to heal following a tooth extraction, the implant is placed directly into the socket immediately after the extraction. Immediate implants thus combine tooth extraction and implantation into one procedure.
For the best results, the extraction must be done very carefully to avoid as little damage as possible to surrounding tissue and bone. It's also important for the implant to be completely immobilized within the bone with no movement at all. It will stabilize further as bone growth (or ossification) occurs over time.
It's also possible to attach a provisional crown to the immediate implant for aesthetic purposes. This isn't the permanent crown that will be affixed after bone growth around the implant; for that reason it's made in such a way that it doesn't contact its counterpart tooth in the opposing jaw. Although the implant is completely immobilized mechanically, it's still not ready for the full forces of normal biting and chewing. After two to three months, the implant should be fully integrated with the surrounding bone and ready for the permanent crown.
Immediate implants are best for the more visible front teeth that encounter less biting force than back teeth. The technique not only reduces healing time, but enables patients to gain an "immediate" aesthetic benefit — and something worth smiling about.
If you would like more information on immediate implants or other dental implant options, please contact us or schedule an appointment for a consultation. You can also learn more about this topic by reading the Dear Doctor magazine article "Immediate Implants."